Each participant receives a certificate of completion, issued by YachtCyberSafe and La Belle Classe Academy of Yacht Club de Monaco.
Innovation for this program comes from our experience and R&D in essential areas to protect yachts, owners and guests: cyber-defense (with suppliers such as Thales: www.thalesgroup.com), yachting industry, Navy officers, protection of family offices and UHNWI and Yacht Club de Monaco (La Belle Classe Academy).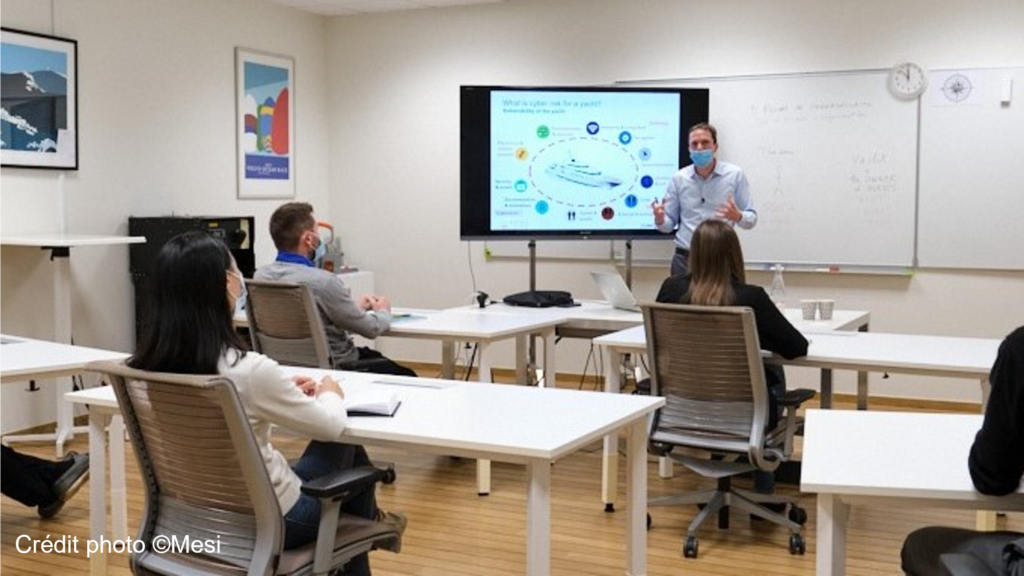 Online sessions
in English or in French
Online and at the Yacht Club de Monaco.
Private programs for your crew on demand.
Training registration:
academy@ycm.org | +377 93 10 70 08
Fee: 150 euros + VAT per participant
If you would like other schedules, please let us know (dates or time)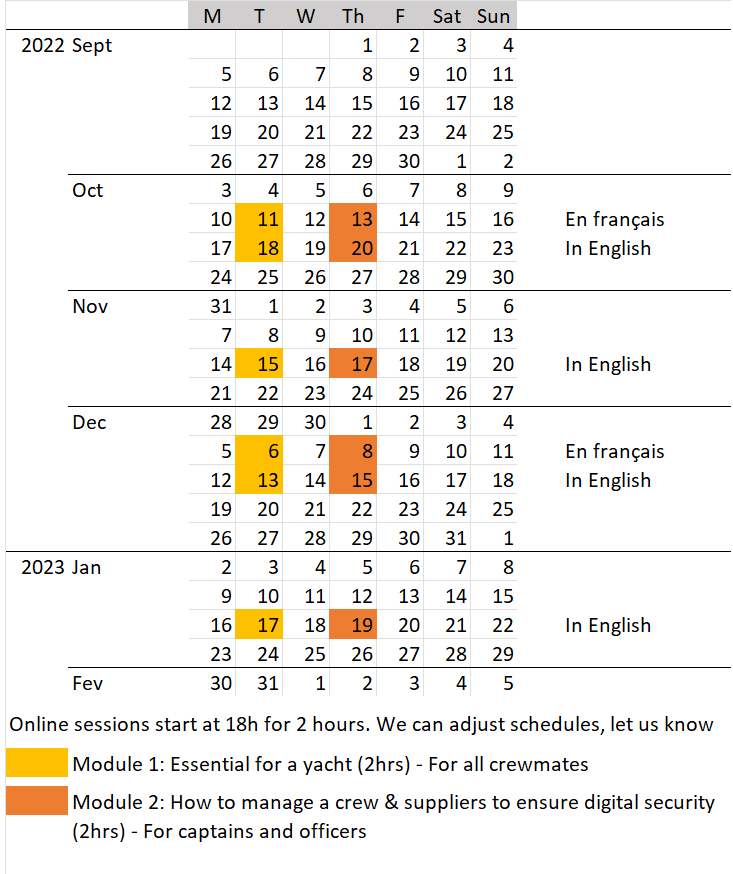 3 possibilities for your trainning

Online
Easy to attend, real courses with high interactions and cases studies.
90 € or 150 € / participant depending on the type of session
At the Yacht Club de Monaco

Enjoy the marvelous atmosphere of the YCM to develop your skills. Discuss with other professionals at the YCM's bar and restaurant after courses.
On board your yacht

Perfect framework for training, to have an awareness session for the crew and an advanced session for officers (+ individual coaching/discussion with the captain).
6 innovations of our training program
It is not an IT training: no IT motivation required
It specifically deals with yachting cybersecurity: yachts are very specific targets for cybercriminals, very diferent from other maritime targets (cargo, cruise ships…)
It does not just focus on the yachts' infrastructures, but it also aims at protecting the owners and guests (as they are the real final target for hackers)                       
It covers all essentials of cybersecurity for people (captains, officers) who are responsible onboard (and do not want to turn into IT security experts)
It deals with the latest trends, tactics, and actual cases of cybercrime
It follows the IMO guidelines (2021), and provides the training and awareness requested by the IMO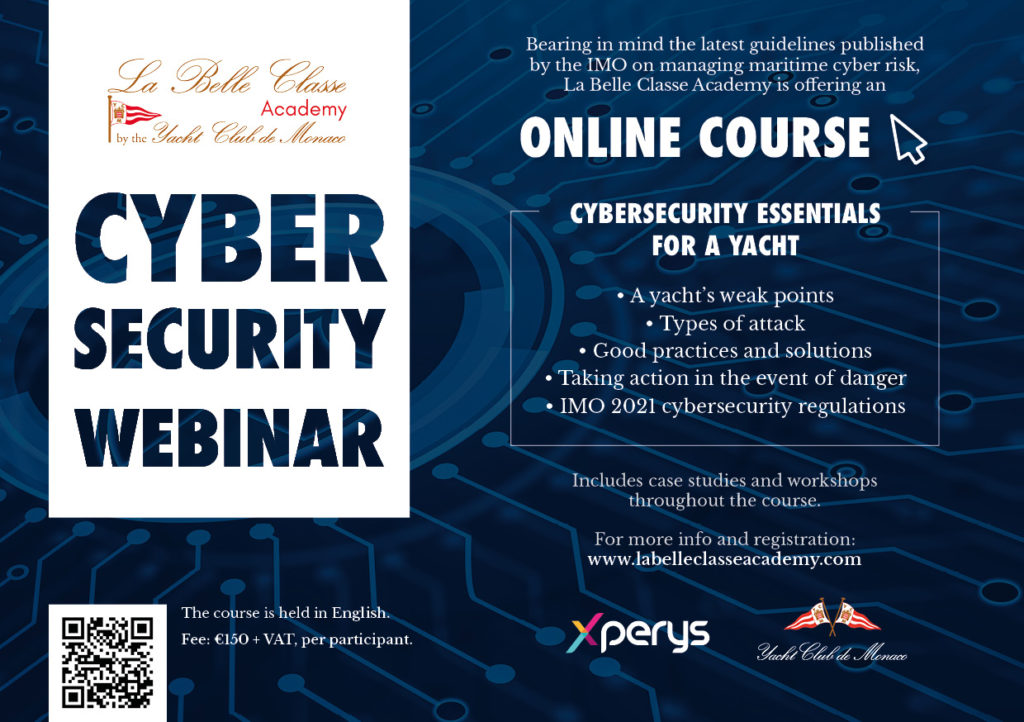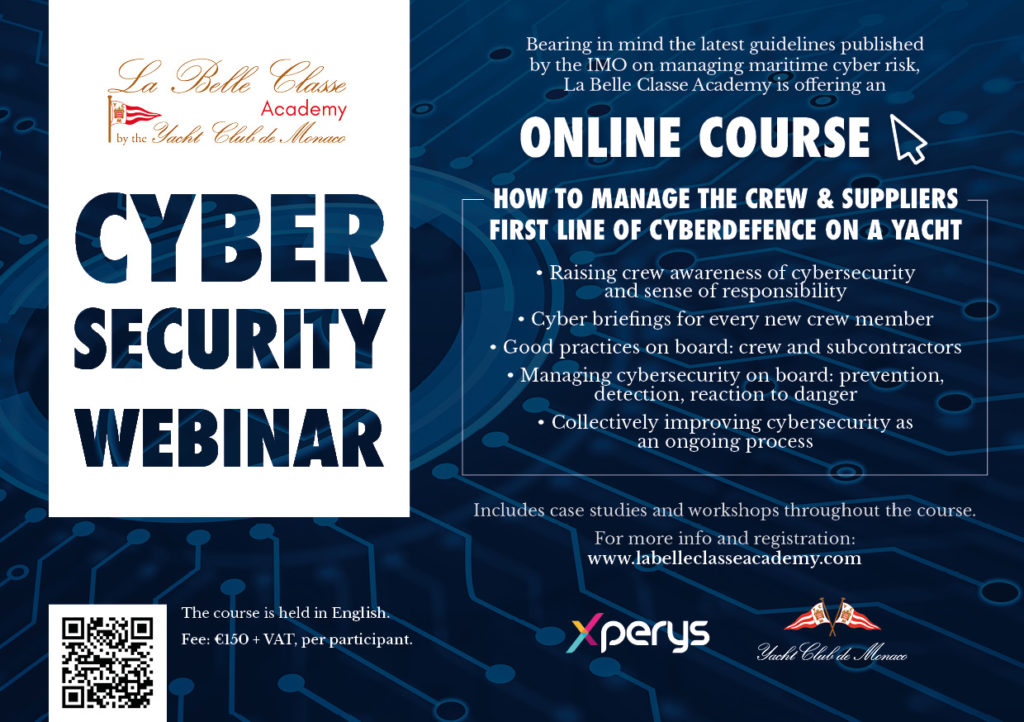 A yacht's weak points
Types of attack
Good practices and solutions
Taking action in event of danger
IMO 2021 cybersecurity regulations
At the end of the training, you have a good understanding of cyber risk for the yacht and crew:
you are able to identify the weaknesses of the yacht,
you know the motivations of cybercriminals and how they work and think
you have experienced real-life cases that have enabled you to identify good and risky practices
you understand the obligations imposed by the IMO 2021 regulations.
Back onboard, you can start applying good practices, for yourself and the crew. You know how to act in case of emergency or danger. You are able to analyze the cyber attack surface of the yacht, first step to draw up a cyber security action plan. You have the basics to prepare the yacht's compliance with regulations (IMO 2021) and to optimise your marine insurance contract.
How to manage a crew & suppliers : first line of cyberdefense on a yacht
(Step 2 – recommended to start with « Essentials for a yacht »)
Raising crew awareness of cybersecurity and sense of responsibilities
How to act with mobiles (smartphones, tablets) to avoid major risks
Good practices on board: crew and subcontractors
Managing cybersecurity on board: prevention, detection, reaction to danger
Collectively improving cybersecurity and information protection as an ongoing process
At the end of the training, you know how to integrate cyber security into your management, vis-à-vis your crew and subcontractors. Given that the majority of cyber incidents take advantage of human error, you have the keys to significantly reduce the vulnerability of the yacht, and better protect the owner and guests.
You understand why mobiles (smartphones, tablets) are a dangerous attack vector criminals love. You know how to mitigate cyber risks of mobiles onboard (professional, personal, crew, guests…) and you have advanced practices to act when back onboard.
You know how to detect signals of vulnerabilities (including among your crew and suppliers), attack preparation or incidents. You know how to ensure that good cyber practices are applied on a daily basis.
You have the elements to include in your contracts (with your contractors, suppliers, crew) to ensure that everyone is accountable and have basic safe cyber practices.
Handbook for all participants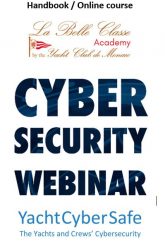 All trainees receive an handbook to facilitate immediate implementation
Major learning to keep in mind
The attack surface of a yacht
Your next steps in cybersecurity
Technical solutions and feedback
Best practices for management and organization
How to improve smartphone cybersecurity
Regulation and IMO compliance
Emergency procedure