Yacht cybersecurity expert, Engineer
Founding partner of YachtCyberSafe and Xperys. Trainer at La Belle Classe Academy, Yacht Club de Monaco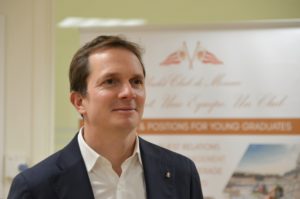 Main expertises :
Yacht cyber audit
Training and awareness program
Organization
Technology
Cybersecurity compliance and holistic methodology (IMO 2021)
Contact: abayeux@yachtcybersafe.com | +377 97 98 29 29
Expert in cybersecurity and digital protection for yachts and crews (and family offices and firms)
Co-founder and CEO of companies dedicated to data and communication protection, cyber security and cybersecurity for yachts and crews. Alex's companies are based in Monaco, Nice and Paris. They include: YachtCyberSafe, FirmcyberSafe, Xperys.
Alexandre has a perfect knowledge of yachts and crews' needs and realities on the ground of family offices. He particularly takes care of the human factors, organization and technology in cybersecurity to cover all ranges of assets to protect: business, privacy, family, reputation…
Alex also protects information for large companies (S&P500) and exposed firms.
Trainer at La Belle Classe Academy of the Yacht Club de Monaco, founder of the cybersecurity training program for captains, officers and crews.
"In all my projects, 2 priorities:
to protect the client's interests (wealth, reputation, privacy…),
to integrate the human factor and each key person's specificity."
« Innovation makes life and work easier, safer and more fun. Innovation is not just technology but also human practices and organization »
Former head of internal audit of Société Générale Monaco, Alexandre is an expert in risk mitigation, and particularly regarding cyber resilience of organizations like yachts and companies : fraud (internal / external), leak, HR turnover, regulation (such as maritime regulation like the ISPS and ISM codes, GDPR), human mistakes, criminality…
Former consultant in organization and acquisition (M&A), Alexandre conducted deals (>100M€) to acquire companies in Europe, Africa and Asia. In his missions, mobiles' protection (smartphones…) and remote access are essential. Cybersecurity is not just IT, but users' awareness is a priority.
Founder and former head of the External Asset Managers desk of SG Private Banking Monaco, Alexandre has a perfect understanding of stakes, realities and duties of professionals (asset managers, fiduciaries, lawyers, family offices…) and wealthy individuals and families
Avid sailor for navigation and races on modern and classic sailing boats like Tuiga, Alexandre is a speaker for conferences or forums dedicated to yachting and VIP protection regarding cyber threats: Yachting Security Forum, Cluster Yachting Monaco.
Education: engineer in Industrial Engineering, graduated in 2000, National Polytechnic Institute of Grenoble.
Alexandre works both in French and English